Orange Automotive Accessories by AMP Research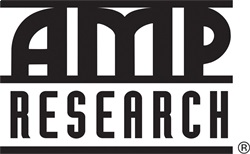 AMP Research automotive parts are available to you in Orange, CA at LINE-X of Orange County! Find all the AMP Research accessories you need including Power Running Board, Power Running Board Controller, Power Running Board End Cap, Power Running Board Hardware Kit, Power Running Board Linkage, Power Running Board Motor, Power Running Board Mounting Bracket, Power Running Board Step, Power Running Board Trim Kit, Power Running Board Wire Harness, Truck Bed Tailgate Extension, Truck Bed Tailgate Extension Latch Kit, Truck Bed Tailgate Extension Mount Kit, Truck Step, Truck Step Mounting Kit, and much more!
About AMP Research
OPEN DOOR. STEP ON BOARD. AMP Research Power Step automatically deploys for easy stepping in and out of your high-riding truck. When doors close, this power-operated running board retracts safely out of sight with no loss of ground clearance. The AMP Research Power Step is built to perform in severe driving conditions and is backed by a 5-year/60,0000 mile warranty.
About LINE-X of Orange County
LINE-X of Orange County is a family owned business and has been in operation since 1999. During that time, we have protected over 30,000 pickup trucks with the best protective coatings available, and have applied LINE-X to thousands of other items that need protection. We carry Truck-Gear by LINE-X as well as most other major truck accessory brands to be able to meet all of your truck customization needs. Conveniently located in the city of Orange, we are your one-stop shop for after-market parts and truck customization.